The Entire Georgia GOP is Silent
NEW KENT, Virginia — On the day of the most politically motivated and corrupt indictment this nation has ever witnessed, the entire Georgia GOP is silent.
Not a peep out of Attorney General Chris Carr, Lt. Governor Burt Jones, or Speaker of the Georgia House John Burns.
It's also interesting that Burt Jones was not named in the indictment, although his best friend, state senator Brandon Beach (R-Cherokee), was nailed as an un-indicted co-conspirator.
Jones got off the hook when his lawyers complained that Fani Willis, the Fulton D.A., behind all this, had to recuse herself from indicting Jones because she donated to his 2022 Democrat political opponent.
Rather than be assigned to another D.A., it sits on AG Chris Carr's desk, in limbo.
It's interesting that last week Carr announced a run for GA governor in 2026, against his suspected rival Burt Jones, among others. Put two and two together if you will. It equals four.
Also of note is Carr spent the better part of the last several weeks out raising money for his '26 run, in lieu of helping his fellow Georgia citizens, who he knew were about to get these bogus and STASI-style charged indictments to potentially wreck their lives. Nice touch, Chris.
On the other hand, Governor Brian Kemp (GA-R) wasted no time weighing in on the whole sordid spectacle, taking time out of his busy day to respond to President Trump's Truth with his own X (Tweet) and selling out his GOP brethren with this lovely gem: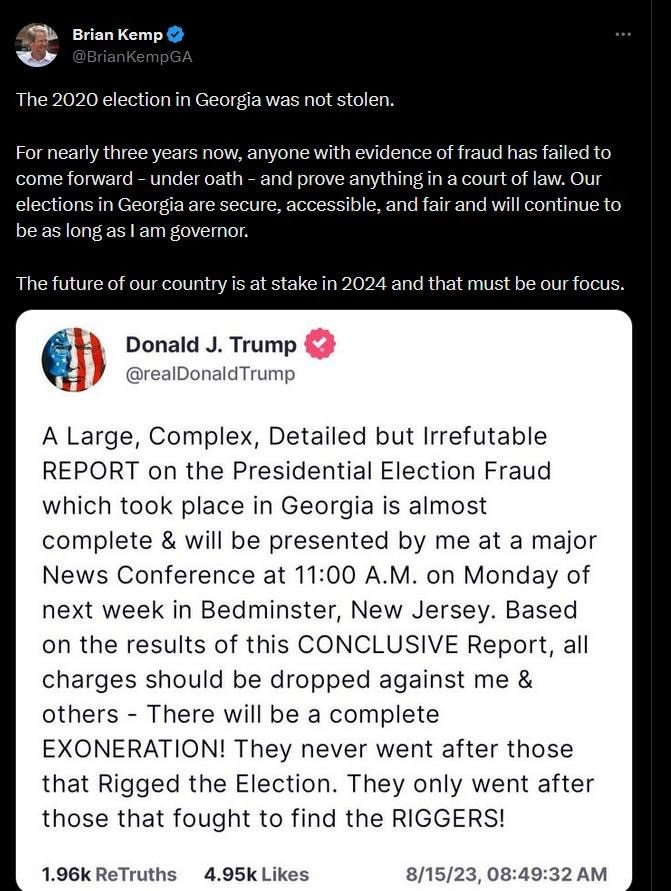 The highest-ranking Republican official in Georgia that had the courage to even utter a word about this political witch hunt in support of his fellow Georgians, their right to free speech, and the rule of law is newly elected GA GOP Chairman Josh Mckoon. He released this statement earlier: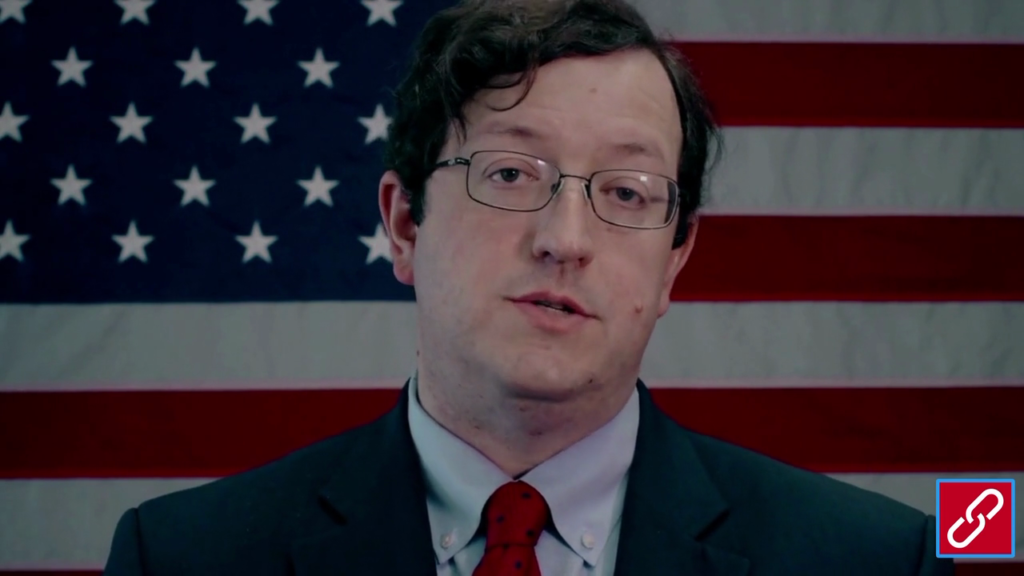 READ THE FULL STATMENT HERE:
https://mailchi.mp/gagop/gagop-stands-against-political-indictments?e=%5BUNIQID%5D
Thanks, Josh. We found somebody in the bunch with a pair.
---
Knock Doors. Get Paid. FieldRight now hiring patriots in Virginia, Kentucky, and Mississippi
FieldRight is a gig-economy app that matches conservative campaigns with a ready workforce of paid canvassers. Sign up, and then get matched with active campaigns to knock doors in neighborhoods convenient to you for the conservative Republican candidates of your choice! Complete them on your schedule, and get regular payouts. You knock doors, you get paid – and best of all, you help conservatives win. Boom!
Check out RallyRight.com/Field-Right and become a canvasser by downloading FieldRight in the App Store or Google Play!

Fani Willis and the Corruption of Justice
By Jeffrey Lord
There they go again.
Following in the tracks of New York District Attorney Alvin Bragg and the U.S. Justice Department's "Special Counsel" Jack Smith, the similarly corrupted legal establishment of Georgia is now pushing forth one of their own in the ongoing game of "Get Trump."
In this latest soon-to-be case, that would be Fulton County District Attorney Fani Willis. Aided and abetted by fellow Democrat Pat Labat, the county sheriff.
Willis has already established her seriously partisan Democrat credentials, so much so that this story was headlined back there in 2022 by Atlanta News First:
Fulton DA was disqualified from investigating alleged election interference by Burt Jones
Fani Willis held a fundraiser for Democrat Charlie Bailey after her grand jury had already been convened
This jewel of a news story about the Fulton district attorney who is now going to be targeting former President Donald Trump reported this:
ATLANTA, Ga. (CBS46) – Fulton County District Attorney Fani Willis was disqualified Monday from investigating alleged 2020 election interference by state Sen. Burt Jones, the Republican who is also running for Georgia lieutenant governor.
Fulton Superior Court Judge Robert McBurney said Willis' hosting of a fundraiser for Jones' eventual Democratic opponent, Charlie Bailey, has caused a "concern about the District Attorney's partiality" in the case.
McBurney specifically mentioned Willis' fundraiser for Bailey on June 14, which was after the Fulton DA had convened a grand jury looking into an alleged plot involving 16 Republicans who served as fake electors, one of whom was allegedly Jones.
"By this time, media coverage of the grand jury proceedings was national and non-stop and the District Attorney was the very public face of those proceedings," McBurney's ruling said. "She also was one of the faces on the Bailey fundraiser announcement: it prominently featured the District Attorney's name, photo, and title and was widely shared on Bailey's campaign's social media outlets. The fundraiser appears to have been a success, earning Bailey's campaign thousands of dollars.
In other words? In other words, Willis has already shown that she is completely willing to weaponize the district attorney's office to investigate her political opponents.
In 2022, her target was then-Georgia state Sen. Burt Jones, who was running for lieutenant governor (and won.) Now she is moving upscale to get her share of publicity for targeting President Trump.
For the record as well, Fulton County Sheriff Labat is a partisan Democrat and campaign contributor to Atlanta's far-left congresswoman, Nikema Williams. He has gone out of his way to say this:
Georgia sheriff vows to get Trump's mug shot if he's indicted in Fulton County election case
So. Bottom line? What do we have here?
What we have is a corrupt political establishment — in New York, Washington, and now Georgia, weaponizing their legal offices to target an outsider former president and current presidential candidate. Sending a message to millions of Americans that if they don't fall in line and do what that political establishment tells them to do — then they will be targeted by corrupt politicians and bureaucrats for investigation, indictment, and arrest.
Or put simply? Donald Trump today — and you tomorrow.
Which is to say chunks of this country are being run by authoritarian zealots and thugs. And if you don't obey, they will come for you.
It's past time to put a stop to this.
Now.
House Republicans? Over to you.