There is no one in Pennsylvania who has done more or fought harder, for Election Integrity than State Senator Doug Mastriano.
He has revealed the Deceit, Corruption, and outright Theft of the 2020 Presidential Election, and will do something about it. He will also Fight Violent Crime, Strengthen our Borders, Protect Life, Defend our under-siege Second Amendment, and Help our Military and our Vets. He is a fighter like few others and has been with me right from the beginning, and now I have an obligation to be with him.
ALSO READ: The Pennsylvania Daily Star – Former President Trump Endorses Doug Mastriano for Governor of Pennsylvania
Doug Mastriano and Dr. Mehmet Oz will make an unbeatable team going into the most important Midterm Election in the history of our Country.
They will Fight, they will Win, and they will Produce for the Commonwealth of Pennsylvania, and for the USA itself.
I have fully Endorsed Dr. Oz, and now it is my great honor to give my Complete and Total Endorsement to a man who will never let you down, Doug Mastriano for Governor of Pennsylvania!
Statement by Donald J. Trump, 45th President of the United States of America
Kathy Barnette will never be able to win the General Election against the Radical Left Democrats.
She has many things in her past which have not been properly explained or vetted, but if she is able to do so, she will have a wonderful future in the Republican Party—and I will be behind her all the way.
ALSO READ: The Pennsylvania Daily Star – Treating Him Very Unfairly:' Trump Gives Full-Throated Defense of Dr. Oz in Pennsylvania
Dr. Oz is the only one who will be able to easily defeat the Crazed, Lunatic Democrat in Pennsylvania. A vote for anyone else in the Primary is a vote against Victory in the Fall!
ADVERTISEMENT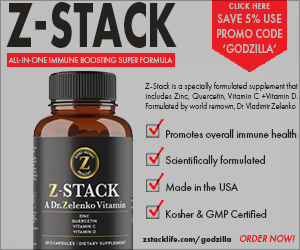 Dr. Vladimir Zelenko has been included in a group of doctors nominated for the Nobel Peace Prize for their role in addressing the coronavirus pandemic.
If the last 18 months have taught us anything it's that YOU have to take control of your own health. You can't rely on the government or big pharma. That's where Z-STACK comes in. Z-STACK is a specially formulated supplement that includes Zinc, Quercetin, Vitamin C, and Vitamin D. Formulated by Dr. Vladimir Zelenko the world-renowned doctor that President Trump credited with his successful early treatment protocol and his decision to take hydroxychloroquine. Go to https://zstacklife.com/godzilla and order today!