Congressman Kevin McCarthy is an outstanding Representative for the people of California, and a strong and fearless Leader of the House Republican Conference.
In Congress, Kevin is a tireless advocate for the people of Bakersfield and the Central Valley. He is working incredibly hard to Stop Inflation, Deliver Water Solutions, and Hold Joe Biden and Nancy Pelosi Accountable for their catastrophic failures and dereliction of duty.
As Leader, Kevin is building a 'Commitment to America' platform to Grow our Economy, Fight Big Tech Censorship, Secure the Border, Strengthen our Military, Defend the Second Amendment, Improve our Health Care, Restore American Energy Independence, Support our Brave Veterans, and Uphold the Rule of Law and American Values.
Kevin McCarthy has my Complete and Total Endorsement for California's 20th Congressional District!
ADVERTISEMENT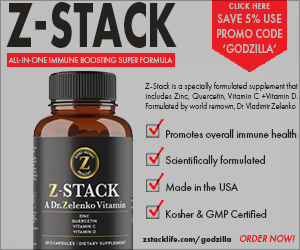 Dr. Vladimir Zelenko has been included in a group of doctors nominated for the Nobel Peace Prize for their role in addressing the coronavirus pandemic.
If the last 18 months have taught us anything it's that YOU have to take control of your own health. You can't rely on the government or big pharma. That's where Z-STACK comes in. Z-STACK is a specially formulated supplement that includes Zinc, Quercetin, Vitamin C, and Vitamin D. Formulated by Dr. Vladimir Zelenko the world-renowned doctor that President Trump credited with his successful early treatment protocol and his decision to take hydroxychloroquine. Go to https://zstacklife.com/godzilla and order today!