Doug Mastriano and his right-wing media allies are priming followers to claim that the midterm election was stolen from him. During interviews with the Pennsylvania gubernatorial nominee, hosts have claimed that there's already been "cheating," said there's "so much nonsense going on with voter irregularities," and speculated about whether "the fix in."
Right-wing media outlets played a critical role in pushing election denialism in the 2020 election and are continuing to do so in the leadup to the November 8 midterm election. In Pennsylvania, as Media Matters' Matt Gertz noted, there could be a repeat of 2020, "with Mastriano and Senate nominee Mehmet Oz holding early leads on election night, declaring victory, and, with the support of the right-wing press, alleging that mail-in ballots that subsequently reduce or eliminate their leads are fraudulent."
Mastriano is a fitting candidate to push baseless fraud claims: He was a leading figure in promoting false claims about Pennsylvania's 2020 results and is a January 6 insurrectionist.
He recently sent a fundraising email with the headline,"The fix is in (2020 all over again)." During a recent Mastriano campaign event, right-wing commentator and disgraced former New York Police Department Commissioner Bernard Kerik said: "The only way the Democrats are going to win this time is cheat."
His campaign has also become notable for trafficking in antisemitism. Mastriano is also a QAnon conspiracy theorist.
Mastriano has largely avoided credible media outlets and questioning and instead preferred to go on programs hosted by supporters. In those interviews, the right-wing hosts push election denialism while talking with Mastriano about the election results. Here are four examples.
Steve Bannon prompted his audience to get involved with the Mastriano campaign after Mastriano told him: "There's still shenanigans in Pennsylvania." 
On October 31, Steve Bannon hosted Mastriano and claimed that CNN and The New York Times are supposedly pushing "suppression" polling against him. He asked the Republican what people need to do for his race. Mastriano replied by claiming, "I do believe we're going to have a great turnout, but we have to make sure it's not a narrow margin because there's still shenanigans in Pennsylvania."
Bannon, who is a leading election denier, later prompted Mastriano to let his viewers know where they can go to help his campaign.
Radio host John Fredericks with Mastriano: "We're getting so much nonsense going on with voter irregularities again in Philadelphia. It's the same old story." 
Mastriano appeared on John Fredericks' radio program on October 31, where the Republican host told him at the conclusion of the interview:
JOHN FREDERICKS (HOST): You got to get out and vote for Doug Mastriano and Dr. Oz. We can win these two seats here. It's going to be the game changer in Pennsylvania for decades to come because a vote for Doug Mastriano means they're not going to be able to cheat in Pennsylvania, Doug, because he controls the secretary of state, the appointment there to clean this mess up. I mean, we're getting so much nonsense going on with voter irregularities again in Philadelphia. It's the same old story. Doug, the only, the only way you're going to clean this up is if we get Doug Mastriano in the governor's mansion. That's why we're going to be following him for the next eight days, getting out the vote. Go to Doug4Gov.com, Doug4Gov.com. Doug, I've been with you from day one. I'm going to stick with you right to the very end, Doug. Everywhere you're going, we're going. We're going to get your vote out, Doug, and you're going to win this race.
DOUG MASTRIANO: Thank you. I appreciate you.
Read the full story from Media Matters.
Endorsement of Gerald Malloy
It is a great honor to endorse an American Patriot who is running in what would normally be a difficult State for a Republican, but things are changing fast, and his Radical Left opponent, Peter Welch, is absolutely terrible—he does not represent the values of the Great People of Vermont.
For the past 16 years, Welch has accomplished nothing in Congress except to boost his own Net Worth by Millions of Dollars. The people of Vermont deserve more than a self-serving political "hack" in the U.S. Senate. Vermont needs a Patriot—and that is Gerald Malloy!
A Brave Veteran, Malloy knows how to fight to Protect our Country, Uphold the Constitution, and Restore the Rule of Law. As U.S. Senator, Malloy will work very hard to Reduce Crime, Stop Inflation, Secure our Border, Protect our under siege Second Amendment, and Restore American Energy Independence, and even Dominance.
Gerald Malloy has my Complete and Total Endorsement—he will never let you down!
ICYMI: OHIO AND NEVADA ELECTION POLLS!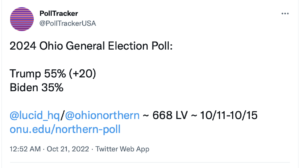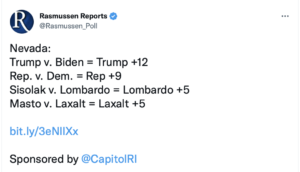 ADVERTISEMENT