Report by John Solomon of Just the News: https://justthenews.com/politics-policy/elections/biden-doj-coordinated-legal-assault-georgia-election-integrity-law
The Biden Justice Department coordinated its legal assault on Georgia's election integrity law last year with several liberal advocacy groups, and is now trying to conceal the content of their communications by claiming they are covered by legal privileges.
Emails and memos obtained under the Freedom of Information Act by Georgia Secretary of State Brad Raffensperger and reviewed by Just the News show extensive communications between DOJ officials and some of the biggest names in the liberal legal advocacy world, including the NAACP, the ACLU, the Lawyers Committee for Civil Rights Under Law and the Southern Poverty Law Center.
The communications also include the Perkins Coie law firm, which represented the Hillary Clinton campaign and the Democratic National Committee and now finds itself enmeshed in Special Counsel John Durham's prosecution of Michael Sussmann, a former partner at the firm who is accused of lying to the FBI when he spread false Russia dirt on Donald Trump back in 2016, the memos show.
"Thanks for reaching out. We are available on Tuesday at 4 p.m. to discuss those topics," DOJ trial attorney Jasmyn Richardson wrote Leah Aden of the NAACP Legal Defense Fund on Aug. 6, 2021 in an email string setting up one of several meetings and conferences about the Georgia law.
The topics for the meeting were redacted by DOJ, claiming they are covered by deliberative privilege and attorney work product secrecy.
The memos show that a month after the Biden administration sued Georgia to overturn its election integrity law the advocacy groups and DOJ constructed an agreement to protect their discussions and emails from public disclosure by calling them "common interest communications."
"Hi all, as confirmed on today's call, each of the entities that participated in today's call … agree on their own behalf and on behalf of their respective clients in this litigation that they share a common interest in the successful prosecution of this litigation and that they may share (but are not required to share) privileged communications and other litigation material between and among them without waiving the attorney-client privilege, the work product protection or any other privilege or protection," Ezra D. Rosenberg, the co-director of the Voting Rights Project at the Lawyers' Committee, wrote the group on July 28, 2021.
At least three DOJ lawyers were included on that memo.
Nearly all the communications after that time included a disclaimer claiming they were "common interest communications" and were heavily redacted by DOJ to hide the substance of discussions before they were released under FOIA.
Raffensperger said Thursday the redactions and the privilege claims smack of political favoritism since DOJ should consider the American public and not one-sided political allies as its clients.
"In effect, what they are doing is invoking client-attorney privilege," the Georgia elections chief said in a television interview. "And it clients, apparently, are these liberal activist groups, instead of being the American people. The Department of Justice works for all of us. I believed that this case was politically motivated, and now we have proof."
A senior Justice Department official, speaking on condition of anonymity, told Just the News there is case law, including in the federal circuit that covers Georgia, where the lawsuit is filed, allowing DOJ to work with common partners on litigation and shield the communications with the same privileges that a private lawyer enjoys with a client.
The official declined to address the appropriateness of the alliance between DOJ and liberal advocacy groups on the Georgia lawsuit.
In the aftermath of the 2020 election, in which absentee ballots, drop boxes and other tactics were more widely used because of the COVID-19 pandemic, Georgia's legislature in March 2021 passed a sweeping election integrity reform law.
The law, among other things, restricted the use of drop boxes, banned the mass mailing of absentee voting ballot request forms to those who did not ask for them and required voter ID and citizenship checks. Gov. Brian Kemp signed the bill into law.
Several private groups sued to challenge the law, and the Justice Department joined the fray on June 25, 2021, claiming the law would disproportionately impact black voters and therefore was discriminatory.
"The Georgia legislature enacted SB 202 with knowledge of the disproportionate effect that these provisions … would have on Black voters' ability to participate in the political process on an equal basis with white voters," the suit charged.
Georgia has pushed back against the lawsuit, noting black voting has soared in recent years in the state and the provisions such as voter ID are widely supported by Americans black and white.
While that lawsuit awaits trial, the new memos Raffensperger's office turned up via FOIA make clear the Biden DOJ worked closely with one side of the debate via the liberal advocacy groups and in one case even hailed one of the group's members for landing a political appointment in the Biden White House.
The relations were so cozy that DOJ sent out its announcement of the lawsuit to a distribution list, and got accolades back from its liberal partners.
"Thanks for passing this important announcement along," wrote Krystal Ka'ai, a staffer for the Congressional Asian Pacific American Caucus chaired by U.S. Rep. Judy Chu, (D-Calif.). "We truly appreciate the work DOJ is doing to prevent voter suppression efforts in Georgia that are meant to suppress voter turnout from communities of color, including AAPIs."
Ka'ai noted in her June 25, 2021 email that she was leaving CAPAC for a job in the Biden White House in a few weeks, earning a warm response from DOJ official Rayshon Payton.
"Congratulations on your last accomplishment!!" Payton wrote back. "Given your professionalism and steadfast drive to better the community around you, its no surprise President Biden selected you for that position.
While DOJ alerted lots of the liberal groups, it apparently slighted one key figure, freshman Georgia Sen. Raphael Warnock, a Democrat whose office made no secret of its displeasure at being kept out of the loop, the memos show.
"I saw the news about the DOJ suit against Georgia re: SB 202, and our offices were a little caught off guard," Warnock counsel Annie Wang wrote DOJ. "It would be very helpful to get additional background and context on this and to speak with the relevant folks involved since it centers on our state and is an issue my boss prioritizes."
File:  DOJWarnockEMail.pdf
Report by John Solomon of Just the News: https://justthenews.com/politics-policy/elections/biden-doj-coordinated-legal-assault-georgia-election-integrity-law
ADVERTISEMENT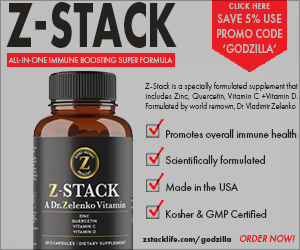 Dr. Vladimir Zelenko has been included in a group of doctors nominated for the Nobel Peace Prize for their role in addressing the coronavirus pandemic.
If the last 18 months have taught us anything it's that YOU have to take control of your own health. You can't rely on the government or big pharma. That's where Z-STACK comes in. Z-STACK is a specially formulated supplement that includes Zinc, Quercetin, Vitamin C, and Vitamin D. Formulated by Dr. Vladimir Zelenko the world-renowned doctor that President Trump credited with his successful early treatment protocol and his decision to take hydroxychloroquine. Go to https://zstacklife.com/godzilla and order today!