This national poll of 1,000 likely voters conducted between March 17 to 22, shows that it's not getting better for President Biden and it could get worse.
Only 29% say that the United States is headed in the right direction.
This is the lowest level we polled on this question since 2016. Two-thirds of the voters, 65%, say the country is on the wrong track. Naturally, the wrong track sentiment is highest among Republicans 92% and 2020 Trump voters 94%.
However, this pessimism includes much of President Biden's Democratic base: 34% of Democrats, 39% of 2020 Biden voters, 42% of African Americans, 48% of Hispanics, and 67% of women.
On the generic ballot for Congress, Republicans have their widest lead that we have seen in well over a decade. Republicans in Congress lead the Democrats 48% to 44%.
However, the 8% that's undecided is not really undecided.
Among these undecided voters, 75% say that country is on the wrong track, 70% disapprove of the job President Biden is doing and 65% are unfavorable to U.S. House Speaker Nancy Pelosi.
If the election were today, Republicans would get well over 50% of the national popular vote for Congress, with the break among undecideds giving then 54% of the national vote.
For the third consecutive month, President Biden's job approval rating remains stuck at 41% with the majority 57% disapproving of his performance.
GOP electoral success is being fueled by voters who disapprove of Joe Biden.
This high level of disapproval is nearly unanimous uniting nearly all Republicans at 93%, but is relatively high outside the Republican base and extends into the Democratic voter base among independents at 63%, women at 59%, Hispanics at 41%, African Americans at 23%, and 2020 Biden voters 22%, all disapprove of Biden's job as President.
The real beneficiary of Biden's failure remains former President Donald Trump.
68% of all likely Republican primary voters want Trump to run in 2024.
If Trump runs again Republican primary voters will support him 82% to 15%.
In a wide 2024 Republican primary field of 13 potential presidential candidates, former President Trump leads with 55%, Gov. Ron DeSantis, R-Fla., with 15%, and former Vice-President Mike Pence with 13%.
All others received 2% or less.
Without Trump in the 2024 race, in a field of 18 candidates the race is wide open with Ron DeSantis 26%, Donald Trump, Jr. 16%, Mike Pence 15%, and Sen. Ted Cruz, R-Texas, 5% — as the leaders, and all others at 4% or less.
In potential 2024 matchups for president, it would be an electoral landslide for Trump from big to bigger. President Trump leads President Biden 49% to 46%.
He leads Vide-President Kamala Harris 50% to 42%.
Former President Trump leads Hillary Clinton 51% to 41%.
Most voters, 55%, do not think that Joe Biden will serve his full term and that Kamala Harris will be president. Only 35% say that he will. Among Democrats, 48% and 2020 Biden voters 47% do not think that Biden will serve the full term.
President Biden's efforts to stop Russia's war against Ukraine are not helping the perception of Biden's cognitive ability. 58% of the voters think that President Biden should take a cognitive health test and release it.
This includes 37% of 2020 Biden voters and 37% of Democrats.
When asked between Joe Biden and Kamala Harris who's more incompetent it's a virtual toss-up Biden 15%, Harris 11%, and neither 35%.
This means six in ten voters view either our president, the vice president, or both as incompetent. This is a very disturbing result at a time when inflation is rampant and war is threatening the world.
The immediate chain of succession does not get any better with the third in line to be President. Even more voters, 61%, want Speaker Pelosi to take a cognitive health test and make it public.
With all these doubts about the physical ability of President Biden and Speaker Pelosi, it's not surprising that a whopping 75% of all voters support passing a new federal law requiring the president to take regular health tests and mandate notifying Congress if there is a serious illness that would medically impair the president from carrying out his duties.
Only 17% opposed this new law.
Support for this law was broad and crossed all political and demographic segments.
Vice President Kamala Harris' recent trips to Europe have not helped her.
She's probably fortunate that the mainstream American media doesn't report her gaffes and bizarre statements to the American public. Harris remains a net negative with 40% favorable and 55% unfavorable ratings.
Of special note, Harris' unfavorable rating is significant among Black voters 25%, women 54%, and independents 60%. As we have dubbed her Kamala Harris remains impeachment insurance to keep President Biden propped up.
Nancy Pelosi remains disliked by a majority of voters with 59% unfavorable and only 33% favorable.
Free market capitalism is preferred by 62% of all voters and only 14% favor big government socialism. The majority 52% want smaller government with fewer services and only 33% want a larger government with many services.
53% of all voters think the economy is in recession; 42% do not.
However, the worst news is that with inflation as the top national issue, a record 70% of all voters think that the economy is getting worse and not better, only 25%.
We have not seen that kind of result ever — not even at the height of the Covid shutdown. As a result of the inflation impact among women, 73% say the economy will get worse.
The 2024 Democratic primary for president remains a wide-open contest whether Joe Biden is in the race or not. If Biden runs he gets 27% of the vote followed by Michelle Obama at 15%, Kamala Harris at 11%, Transportation Secretary Pete Buttigieg at 6%, Rep. Alexandria Ocasio-Cortez, D.-N.Y., 5%, Hillary Clinton at 5%, and 12 other candidates at 4% or less. Without Joe Biden, Michelle Obama 20%, Kamala Harris 18%, Pete Buttigieg 7%, Hillary Clinton 7%, Alexandria Ocasio-Cortez 6%, and 12 other candidates at 5% or less.
No matter how hard he tries, President Biden cannot escape blame from a majority of voters. 35% blame Biden for rising gas prices, 33% blame Putin, and another 20% blame both.
Two-thirds of all voters, 68%, approve of expanding oil, gas, and fossil fuel exploration in the U.S. to lower energy costs and promote energy independence.
This support crosses all political and ideological voter segments with support from 2020 Biden voters 56%, Democrats 53% and liberals 52%.
The plurality of voters 48% to 40% thinks that if Trump had still been in office Vladimir Putin would not have invaded Ukraine.
The majority 50% to 41% support prohibiting sex education from being taught in schools from kindergarten to third grade.
The fact that Russia is the lead negotiator for the Biden administration's new Iran nuclear deal makes the majority of voters 55% less likely to support the deal and only 17% more likely.
By John McLaughlin and Jim McLaughlin
READ MORE: Biden's Job Approval Plummets to New Low
Statement by Donald J. Trump, 45th President of the United States of America
Have the great people of Missouri been considering the big, loud, and proud personality of Congressman Billy Long for the Senate? Do they appreciate what they have in him, a warrior and the first major political leader to say, "You better get on the Trump Train, it's leaving the station." That was before I even announced I was running for President. This is not an endorsement, but I'm just askin'?
ADVERTISEMENT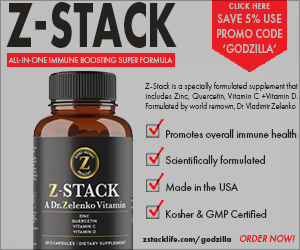 Dr. Vladimir Zelenko has been included in a group of doctors nominated for the Nobel Peace Prize for their role in addressing the coronavirus pandemic.
If the last 18 months have taught us anything it's that YOU have to take control of your own health. You can't rely on the government or big pharma. That's where Z-STACK comes in. Z-STACK is a specially formulated supplement that includes Zinc, Quercetin, Vitamin C, and Vitamin D. Formulated by Dr. Vladimir Zelenko the world-renowned doctor that President Trump credited with his successful early treatment protocol and his decision to take hydroxychloroquine. Go to https://zstacklife.com/godzilla and order today!