PHOTO CREDIT: AP Photo/Evan Vucci
Joe Biden is continuing to squander the economic recovery he inherited.
"Terrible news," big miss," "major jobs disappointment," "abysmal," "awful," "miniscule," "massive slowdown," "worst case scenario for economists" … those are just a few of the ways experts are describing Biden's huge miss in the August jobs report.
Almost HALF A MILLION FEWER JOBS were created than expected, with only 235,000 jobs created compared to 720,000 expected.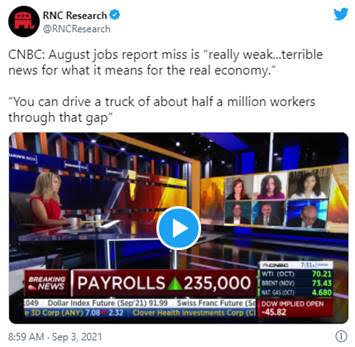 It's more evidence that Biden's policies are failing. For the first 6 months of Biden's presidency, rising prices have completely wiped out any wage gains, and half of small businesses have job openings they can't fill as Biden pays people not to work.
If Biden wants to learn how to create jobs, he should look to Republican-led states. Based on the latest data, 16 of the top 20 states for recovering jobs from the pandemic are led by Republican Governors.
Biden's socialist schemes don't work. Americans want policies that empower workers and small businesses, not trillions of dollars in reckless tax-and-spending sprees that only embolden the swamp at the expense of the rest of America.